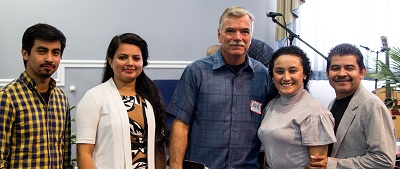 New Faces and Ministries
Over the summer and fall it has been a pleasure to see new Hispanic ministries get started and/or affiliate with the movement of Friends.
As he writes in his testimony, Natanael (on the left with his wife Dayana) says his life was filled with bitterness before it was redeemed in Christ:
"
I am the firstborn of my mother and the last of my father, my father already had his family when he met a young woman of 17 years old; so my history began in this way like that of many. I am a product of the infidelity of my father in a relationship outside of marriage that was probably never in the plans of my parents, but was in those of the living God whom today I serve.
"
Later, as a result of the abuse and neglect he experienced he wrote,
"
Since the time I remember, I could only think of vengeance. My heart was full of hate and bitterness
"
"
I still remember that day when I knelt down. I still carry the smell of wet earth in my mind. The day I knelt down I knew that God had called me to something great
."
Of his ongoing life in Christ, he writes: "
In my new life as a Christian I dedicated every second of my time to the Gospel until I immigrated to the United States in 2008 to continue serving God
." So now, in addition to running his own business, Natanael and Dayana are working to start a church in Virginia.
It is a common and a miraculous story that highlights the spiritual vitality of the Hispanic church in North America. Men and women who have been transformed by the touch of God and who have found freedom and transformation in Christ come to the United States and are used by God to touch the lives of others. Maybe, as Natanael says, this was not in the plans of others, but it was in the plans of the living God whom we serve.
Likewise, on the right of this picture is a talented couple who had successful solo ministries in music before marriage and then went on to form a team that has ministered across the spectrum of Hispanic churches in North and Central America. Jonatan and Liseth now feel led to spend less time on concerts and conferences in order to focus on a new church plant on the north side of Chicago. Some of his friends have told Jonatan that he is crazy to take on a new church. It is hard work with little thanks, but it is the life's blood in the multiplication of Christ's church through the making of disciples and they are convinced.
I thank God for each one who, like these couples, is coming forward to give of themselves and their talents to enrich and expand the Kingdom of God in North America. It is a privilege to work with and to serve such leaders.