Where did the fall go? Here in South Texas it seems like we have been more than a little distracted by all of the movement and challenges after Hurricane Harvey, and the time has flown quickly. Many plans have changed as we came together as communities to help those who have been so deeply affected. Joyce and I were personally thankful that our home did not flood and have taken that blessing as an opportunity to help so many others who are struggling.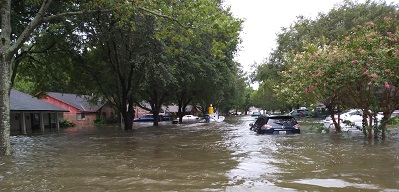 So much of the challenge is the waiting. People have been waiting – for it to stop raining; for the waters to recede; for help to clear out the house; for the walls to dry; for adjusters, inspectors, and contractors; for checks from FEMA, insurance or others; for materials; and on and on. With time, things are coming together, but it is hard to wait.
We know that this is true in so many areas in life. God is at work, but He is certainly not done yet. Jesus has come, but the world is not restored or remade
yet. God's love has entered the world, but even His people do not reflect that love and glory in its fullness. We long for His coming again to establish justice and peace, and in the meantime we wait.
In
Hispanic Ministries
in the United States I am discouraged at how people's lives become a political football and how God's people are swayed by nationalistic and hedonistic agendas instead of Kingdom values in so many areas. And so we all wait – and do our part no matter how the currents of politics and culture may move in force against the coming and working out of God's salvation. We wait and we work in faithfulness and hope that God will "deliver us from evil" to do what is good and right.
During this Christmastime look beyond the struggles, the budget shortfalls, the brokenness and injustice to see the glory of what is to come in our Lord. Invest yourself in Him and His work in all that you do, for we know that His day is coming. For His is the Kingdom and the power and the glory forever and ever, Amen.