Place: Galeana #167 (Parsonage: La Madrid #156
Colonia Sarabia, Nva. Rosita, Coahila, Mexico
tel: 52-861-614-0609
mail:
P.O. Box 1292
Eagle Pass, TX 78853
email: SergioLuisayJael@Yahoo.com.mx
Pastor: Sergio and Luisa Ayala
Number of Members: 87
Number in Attendence: 100
Services:
Sun.: Sunday School 10 A.M.
Worship Service 7 P.M.
Wed.: Bible Study 7 P.M.
Th.: Leadership School 7:30 P.M.
Fri.: Various Activities 7 P.M.
Sat.: Youth Meeting 6 P.M.
Mon.-Fri.: Prayer 9 A.M.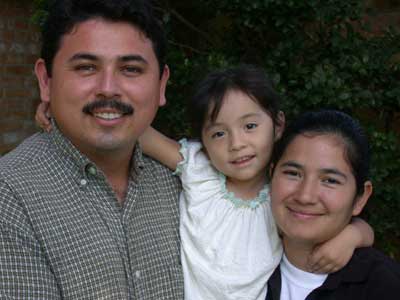 Pastors Sergio and Luisa Ayala with daughter Jael